Spray & Bake Ideal for Paint Booth and Spray Booth Applications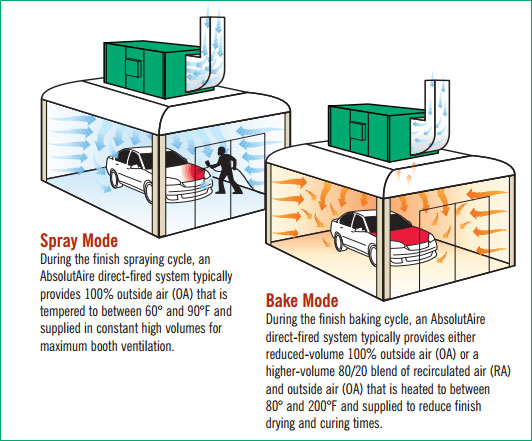 AbsolutAire's Spray & Bake direct-fired booth heating systems provide adequate, temperature-controlled ventilation during the spray process and then heat up the booth with high-temperature ventilation during the curing process. These systems can be fueled with either natural or LP gas and can accommodate 6,000 to 50,000 CFM for constant high or reduced airflow volumes.
The spray setting is meant for a high-volume of low-temperature ventilation ranging from 60 to 90 degrees Fahrenheit. It is tested and excellent for operator safety. In the bake setting, high-temperature curing ventilated air (from 80 to 200 degrees Fahrenheit) helps speed drying and increases productivity. Circulation is maintained with 100% outside air or a combination of outside air and recirculated air, often at an 80/20 ratio.
But beyond the obvious need for air ventilation, AbsolutAire's Spray & Bake systems are especially ideal for a number of other factors:
Low-Cost and Simple Installation
AbsolutAire makes it easy to incorporate a Spray & Bake model into your existing system. They come fully-assembled, pre-pied and wired, and with single-point connections for electricity and gas, simplifying set-up and startup. It only requires minimal adjustments for static pressure drops. Plus, they come in either upright or horizontal models and can be installed either indoors or out, depending on the layout of your building and the space you have.
Tested, Certified, and Under Warranty
The products are ETL-certified to ANSI Design Standards, tested to meet NFPA codes, and competitively priced and built with only the best in UL, CSA, or AGA listed components. When it's service time, there is an external power switch, making shut-down easy. The filters are either cleanable or replaceable and easily accessible. Plus it comes with exclusive parts and labor limited warranty.
High-Performance Spray & Bake Finishing Solutions
AbsolutAire solutions are recommended for all types of spray booths including downdraft, semi-downdraft, and crossdraft. Configurations are designed and built to meet exact requirements for your company's applications. We offer a variety of models, including two of our most popular Spray & Bake solutions:
Standard Units (AA-Series): These units are economical and versatile for low to moderate finish-curing temperatures ranging from 80 to 140 degrees Fahrenheit. The forward-curved centrifugal fan with heat-shielded VFD-motor ensures precise ventilation control with multiple choices for supply-air discharge.
High Temperature Units (R-Series): These highly-durable units are especially designed for spray booth applications requiring moderate to high curing temperatures, from 80 to 200 degrees Fahrenheit. The pre-mix solid-state burners allow for low emissions and almost 100% fuel efficiency. The backward-inclined airfoil plenum fan requires up to 40% less brake horsepower for specific ventilation.
For more information and to discuss the best direct-fired heating system for your application, give us a call. At AbsolutAire, we insist upon total support for our customers, and it is our mandate to innovate and provide solutions that exceed expectations, and to not only do things right but also to do the right things.