Fan Boxes - Untempered Make-up Air
AbsolutAire fan boxes provide untempered make-up air for a variety of applications and can be configured with Double Width Double Inlet (DWDI) or Single Width Single Inlet (SWSI) fans for maximum design versatility. Like our tempered make-up air and heating and ventilating systems, our fan boxes have an array of options available to them. They also offer outstanding economy, installation versatility, and operating durability.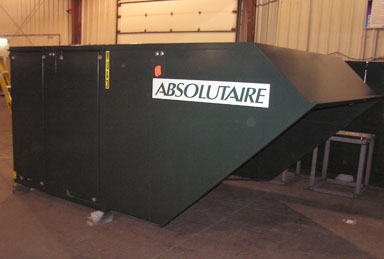 FBDWH-Series
These are DWDI fans that produce approximately double the volume at the same static pressure as an SWSI fan. This is an important advantage when space considerations limit the available height but allow ample floor space.

FBAFH-Series
These SWSI fans are most commonly used when suction duct is required on the fan inlet. The single width fan has the advantage of providing a connection from the duct straight to the fan inlet, without the use of inlet boxes. This can also be advantageous when the air is contaminated or at a very high temperature, and it is desirable to have the bearings excluded from the air stream, without the use of inlet boxes.

FBDWH Capacities from 3,000 to 52,000 CFM
FBAFH Capacities from 8,000 to 130,000 CFM
Aluminized Steel Construction, Painted with Industrial Enamel, Owner Matched Colors at No Extra Cost
Hinged Fan/Motor Access Door
Multiple Discharge Configurations Available
Mechanical or Evaporative Cooling Available
Fan Bearings Rated for a Minimum L-10 Life of 100,000 Hours
90-Day, Two-Year Parts Limited Warranty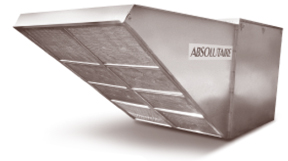 M-Series
Six different M-Series models are available with a range of capacities under various static pressure conditions. Rooftop units can be curb-mounted and provide either down or end discharge supply air, while indoor (in-line) units can provide end discharge supply air. The M-Series also has numerous options available such as inlet hoods, motorized or gravity dampers, filtration, and industrial enamel paint.
Durable Non-Corrosive Steel or Aluminum Sheet-Metal Construction
Weatherproof Control Enclosure
Belt-Driven Centrifugal Fan (with Variable-Pitch Motor Sheave)
Fan Bearings Rated for a Minimum L-10 Life of 100,000 Hours
Non-Fused Disconnect
Remote Start-Stop Switch
Mechanical or Evaporative Cooling Available
90-Day, Two-Year Parts Limited Warranty
For more information contact sales@absolutaire.com