S-Series - Custom Air Handling Systems
The AbsolutAire S-Series air-handling system offers customized solutions for industrial heating, ventilating, and make-up air for total environmental control. As custom-designed "air houses," these systems are built with specific operating sections designed to meet the specific needs of the facility.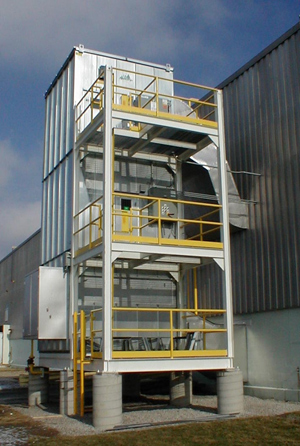 With a modular design approach, the S-Series can deliver a range of options for heat generation, cooling, dehumidification, humidification, ventilation and make-up air, multiple-stage filtration, and supply and discharge air options. User-friendly controls, enhanced serviceability, quality construction, and exceptional performance are standard.

The S-Series if the first choice within the heavy industrial sector where operational performance is key. The following represent a selection of our satisfied clients: Ford Motor Company, John Deere, General Motors, Toyota Motor Corporation, Boeing, Inc., and Harley Davidson.


Heat Generation Options: Hot Water, Steam, and Electric Coils
Pre-Filter Options: Oil Mist Removal, Pleated and Disposable, Polyester Pad, Cartridge, Bag, Washable
Cooling or Dehumidification: Chilled Water (CW) and Direct Expansion (DX)
Humidification: Direct Evaporative Media, Steam, and Water Atomization
Final Filter: Cartridge, Bag, HEPA, and Charcoal
Fan: SWSI Externally Mounted, DWDI Internally Mounted, SWSI Plenum Style, and Vane Axial
Fan Bearings Rated for a Minimum L-10 Life of 100,000 Hours
Multiple Discharge Configurations Available
Full Size Access Doors
Heavy Gauge Interior and Exterior Panels
90-Day, Two-Year Parts Limited Warranty