E-Series - Direct-Fired Air Turnover System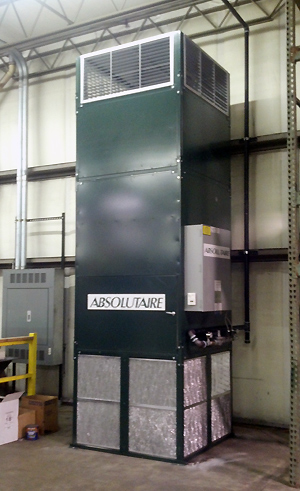 Energy efficiency and environmental care are priceless, so AbsolutAire is taking the lead in developing sustainable HVAC technologies to conserve energy and reduce greenhouse gases in today's world, and for future generations to come.
The AbsolutAire E-Series direct-fired air turnover systems use the best available technology to preserve precious resources, slash heating and ventilating costs, and shrink our environmental footprint. The unique and unprecedented E-Series combines the very best features of indirect-fired air turnover units and direct-fired heating systems. Efficient axial fans use less horsepower to achieve maximum ventilation and less fuel for maximum heating and reduced emissions with 100% efficient direct-fired burners.

The E-Series ensures space comfort with high-volume, low-velocity air recirculation. These units are best suited for warehouses, light industrial applications, and government and public buildings. Installation is simple, maintenance is minimal, and AbsolutAire's customer service, engineering support, and system warranty are among the best in the industry. AbsolutAire has a patent applied for on this breakthrough technology.


Capacities up to 120,000 CFM and 7,000 MBH
Advanced Energy-Saving Design Excellence
Up to 40% Less CO2 Output
Less than 1ppm CO and 0.10 ppm NO2
Unique Design Utilizes As Little As 2% Outside Air
Combustion Fresh Air, CO2 Monitoring
Uniform Heating, Minimum Stratification
Precise Temperature Control Systems
Multiple Return and Supply Air Configurations
"Smart Stat" Control (Single Stage Heat)
90-Day, Two-Year Parts Limited Warranty