Specialized Products
The innovation does not stop with AbsolutAire's main product line. Several specialized products can help bring the efficiency and value to even more applications.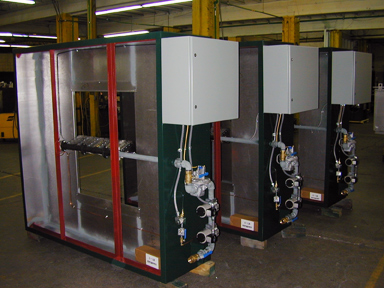 Burner Boxes
AbsolutAire can help bring the same benefits of direct fired units to customers that already have the airflow and control system in place. Burner boxes offer a completely wired and assembled direct-fired burner, profile, and gas manifold, ready to install into an existing system.
From 250 to 13,000 MBH
Gas Manifolds from ¾" to 3" NPT
Aluminized Steel Gas Box Enclosure, Industrial Enamel Paint
NEMA 12 Electrical Enclosure
UV Flame Safeguards, Full Combustion Safety Controls
Low Fire Start
Piloted Ignition
Maxitrol Series 14 Discharge Temperature Controls
90-Day, Two-Year Parts Limited Warranty
Construction - CH Series
Built for easy portability, construction-site handling, excellent fuel economy, and lasting performance, AbsolutAire CH Series construction heaters deliver instant heat wherever needed. For seasonal construction projects, CH Series is ideal for quickly warming work areas and helping to maintain productivity. During cold weather, at outdoor events, or in emergencies, the CH Series is a versatile choice for adding low-cost comfort. It will quickly warm large areas and maintain space temperatures.
Capacities from 6,000 CFM, 700 MBH
One-Person Easy Handling
Durable Stainless Steel Construction (Painted Aluminized Steel Available)
Field-Switched Power (230V or 115V)
Field-Switched Gas (Natural to Propane)
100% Efficient Maxon NP2 Burner
Weatherproof Control and Piping Enclosures
Automatic Electronic Spark Ignition
Flame Rod Burner Supervision
Non-Fused Disconnect (On-Off)
Integral Space Temperature Controls
Direct-Drive Axial Fan with Inlet Guard
Adjustable Airflow Switch
ETL Listed to Meet UL-508A
90-Day, Two-Year Parts Limited Warranty
Door Heaters - DH Series
For directional heating and drying, AbsolutAire DH Series offer exceptional value. As economical, automatic door heaters, DH models efficiently block the inrush of cold air when roll-top or overhead doors are opened. As an air-process dryer, the DH model also effectively directs high speed, heated air and is useful in a car wash to help dry vehicles exiting the drying cycle.
Capacities from 6,000 CFM, 700 MBH
Durable Stainless Steel Housing
Painted Aluminized Steel Housing Available
Waterproof Electrical and Gas Control Enclosures
Remote or Door-Switch Controlled
Automatic Electronic Spark Ignition
Flame Rod Burner Supervision
Maxitrol 14 Discharge Temperature Controls
Diagnostic Circuit Check Lights
Direct-Drive Axial Fan with Inlet Guard
Easy to Install at Any Angle
ETL Listed to Meet UL-508A
90-Day, Two-Year Parts Limited Warranty
For more information contact sales@absolutaire.com