I-Series - Indirect-Fired Heat and Ventilating
With unmatched excellence in direct-fired heating, ventilating, and make-up air systems, AbsolutAire has expertise in indirect-fired systems as well. Indirect fired heat technologies meet specific customer preferences and are common choices for many commercial, institutional, and industrial applications in which the higher capacities, displacement ventilation solutions, and fuel efficiency of direct-fired systems are not required.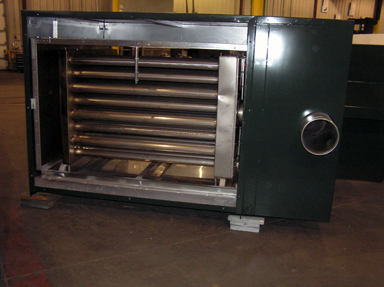 AbsolutAire I-Series indirect-fired heating and ventilating systems are available in horizontal and upright configurations for either indoor or outdoor installation. Like most indirect fired heaters, these units are 80% energy efficient and use only the best heat exchangers in the furnace section to provide building supply air at set temperatures. Depending on the application, these systems may be gravity or power vented for exhausting combustion gases to the outdoors.

Many of the same design features found on AbsolutAire direct-fired units can be found on our indirect-fired units. These include motorized dampers, advanced filtration, evaporative and mechanical cooling, specific control systems, long life motor and fan combinations, single point gas and electrical connections, and ETL/CSA certifications.
Weather-Resistant, Heavy Gauge Aluminized Steel Construction
Durable Two-Coat Paint Finish, Owner Matched Colors at No Extra Cost
Multiple Discharge Configurations Available
Fan and Motor Vibration Isolation Standard
Combination Combustion Air/Exhaust Vent Cap
Easy Access to Burner and Gas Connections and Controls
Motor Starter and Overload Protection
High Limit Safety Control

Adjustable Differential Airflow Proving Switch
Drum and Tube Heat Exchanger Options Available
Fan Bearings Rated for a Minimum L-10 Life of 100,000 Hours
90-Day, Two-Year Parts Limited Warranty - Our Warranty on the Heat Exchanger is the Same as that Provided by the Heat Exchanger Manufacturer
For more information contact sales@absolutaire.com