3 Key Benefits of AbsolutAire's Direct-Fired Booth Heating Systems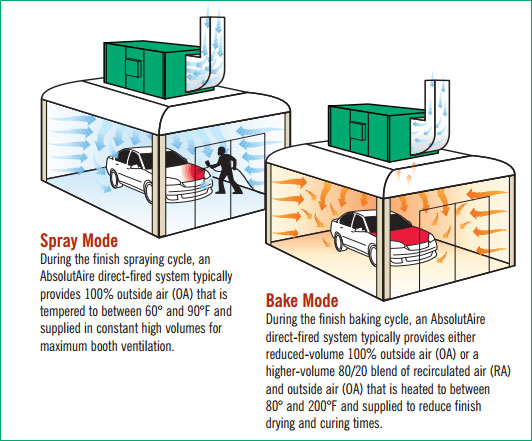 When your application demands perfection, AbsolutAire's direct-fired booth heating systems are designed to deliver. Used by major automotive manufacturers, top construction equipment manufacturers and other industry leaders, our Spray & Bake models have been engineered to help achieve a smooth, even coat every time. With two modes, "Spray" and "Bake," the systems first deliver fresh make-up air for high volume, low-temperature ventilation to improve safety and finish. Next, they deliver heated, curing air that speeds the drying process and increases productivity. Today, we'd like to look closer at three of the key benefits that our direct-fired booth heating systems offer.
Superior Performance
AbsolutAire's Spray & Bake models are the most capable systems available for custom-finishing operations. Offering make-up air capacities from 6,000 to 50,000 CFM, they are made even more efficient with their adjustable airflow volumes. More importantly, their airflow burner is almost 100% efficient and can be built to require less horsepower by including an economical airfoil fan.
Maximum Versatility
The versatility of AbsolutAire's Spray & Bake models is unmatched. From using either natural gas or liquid propane to a range of options for cooling, humidity control, filtering air and more, the models are designed from the ground up to be flexible and capable of meeting a wide range of finishing needs.
Seamless Installation
We understand that wasting time is not an option when it comes to finishing. As a result, our direct-fired booth heating systems are built for easy installation and straightforward integration into your existing operation. With ready-to-install assemblies available in both upright and horizontal designs, AbsolutAire can quickly install your new system with minimal downtime.
At AbsolutAire, we're committed to offering the highest quality total air management systems and meeting the most demanding customer requirements. Our direct-fired booth heating systems are a testament to that commitment. With their unparalleled performance, flexibility and ease of integration, they are certain to improve the efficiency of any finishing operation. If you've been looking to boost your productivity, lower costs or better ensure the safety of your employees, call us today to discuss how our Spray & Bake models can help.