Dover Air Force Base - Dover, DE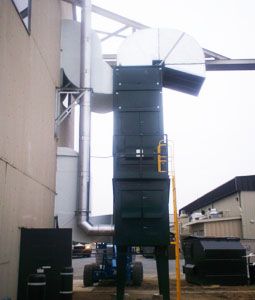 I-Series Indirect-Fired System
Variable Volume with VFD's
Outside Air (OA)/Return Air (RA) Design

Key Facts:
Product: I-Series Indirect-Fired System
Model: Two I750-S-PO-UVMI
Airflow: 15,500 CFM Each
Capacity: 775 (In)/620 (Out) MBH Each
Fuel: Natural Gas

Options:
Inverted, Upright Design
Service Vestibule
VFD with High/Low Volume Switch
Motorized OA and RA Dampers Controlled via Building Pressure
OA/RA Filter Box with Pleated Filters
Thermafiber Insulation Throughout
3-Way Double Deflection Discharge Diffuser
Service Platform with Ladder
60" High Support Legs

Installed: 2011

Project Overview:

Dover Air Force Base in Delaware needed new equipment to replace old and failing unit heaters in a hangar that stores the jet engines for the Air Force's C5 Galaxy planes. Each engine is valued at approximately $1 million dollars, and there are about 40 of them housed in the hangar.
The Air Force Base chose two AbsolutAire I-Series to heat the space and keep the engines and sprinkler systems from freezing. The units are designed to maintain constant discharge temperature to protect both the building and its contents. Building pressure controls maintain a slight pressure in the space, minimizing infiltration of cold air, dust, and dirt from the outside, even as hangar doors open and close throughout the day. VFD-controlled fan speed allows for maxium energy conservation while operating at low speed and maximum air tempering during high speed operation.