St. Peter and Paul Church - Roseville, MI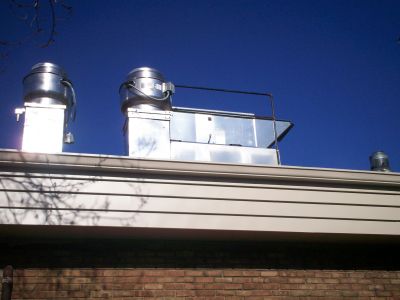 V-Series 100% Outside Air System
Economical Make-Up Air for Kitchen Hood

Key Facts:
Product: AbsolutAire V-Series 100% OA Make-Up Air System
Model: V2-HOM
Airflow: 3,100 CFM
Capacity: 234 MBH
Fuel: Natural Gas

Options:
Filtered Inlet Hood with 2" Aluminum Filters
Internal Rubber Vibration Isolators
1" Foil Face Insulation
Exhaust Fan Motor Starter
Mounted on Common Curb for Supply and Exhaust

Installed: 2009

Project Overview:

St. Peter and Paul Church was in need of a make-up air system for their kitchen hood. They selected an AbsolutAire V-Series 100% outside air direct-fired unit because of its simple controls, exceptional value, and short production time. The unit was provided with an exhaust fan motor starter so that the two systems could work together. To keep installation costs down, a flat common curb was provided to support both the V-Series and the exhaust fan on the roof.