Tim Miller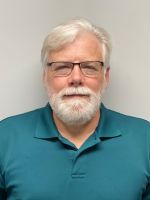 Engineer, Electrical and DDC Controls
Tim Miller is an Electrical Manufacturing Engineer at AbsolutAire. In this role, he is responsible for electrical design and manufacturing implementation, focusing on wiring and assembly standards, SOPs, component selection, and change orders. Plant floor implementation in these areas also requires creating data entry and information tracking programs to analyze manufacturing efficiencies and project planning.
Tim started his engineering career at Dart Container, working for 16 years as a Technician, advancing to Data Acquisition Specialist, followed by Electrical Designer. After that time, he held multiple positions as a Controls Engineer, contracting for Pfizer, Coca-Cola, Kellogg, and General Motors. Tim has been with AbsolutAire since 2017.
In 1983, Tim earned an Associates Degree in Applied Science from Lansing Community College, and has taken multiple software and hardware training courses throughout his career.