Glenn Antisdel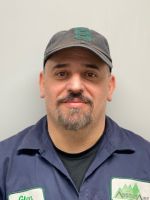 V-series Production Manager
Glenn Antisdel is the V-Series Production Manager in the AbsolutAire plant. His responsibilities include managing the V-Series construction and assembly team, working directly with the Production Manager to ensure that all units are built accurately and shipped in a timely manner. Also he works closely with the Engineering Department, offering suggestions for continuous improvement of the V-Series product line.
Glenn began his AbsolutAire career in June 2005 in the AA-Series assembly department, after which he transitioned into a V-Series assembler. In 2017, he was promoted to V-Series Production Manager.
Glenn received a degree in AutoCAD from ITT Technical Institute in 2008. He also received his AWS welding certificate in 1998.