Gary Ellis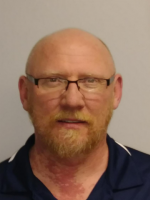 Gary Ellis is the Plant Foreman for AbsolutAire. In this role, he is responsible for manufacturing planning and operations management for the company's full range of product offerings. This includes overseeing and directing all production, including fabrication, assembly, piping, electrical, and painting.
Gary was named Plant Foreman at AbsolutAire in 2018, following more than eighteen years of experience with the company in various production and supervisory roles. Prior to joining the company, he worked at a number of Grand Rapids-area metal fabrication and welding shops, including Benteler Automotive and the Environmental Technical Group.
Gary graduated from Comstock High School in Comstock, MI, a suburb of Kalamazoo. He transferred here from Obion County High School in Union City, TN in order to be closer to family. His educational interests included shop technologies, welding, art, and photography.
Married to his wife, Kelly, in the fall of 2018, Gary's recreational interests include fishing, hunting, riding motorcycles, and just relaxing at home with the family dog. The couple resides in Plainwell, MI.